Welcome to joshuaw.xyz, my home at the end of the internet.
My name is Joshua Whiting (he/they). I am a dad, a husband, a media specialist / librarianish person in the educational technology department of a school district, a sometimes writer, and maybe some other things.
I want to learn, write, and make more things, and I wanted a place of my own to put those things, so I created this site. This is my main venue for creative activity and publication on the internet.
You can scroll down to browse recent notes, and you can find a menu of additional features by clicking on the [ + ] sign in the top right corner of this web page.
Thanks for visiting.
---
A log of my music listens in the past week, by albums and playlists, not including completely random shuffles.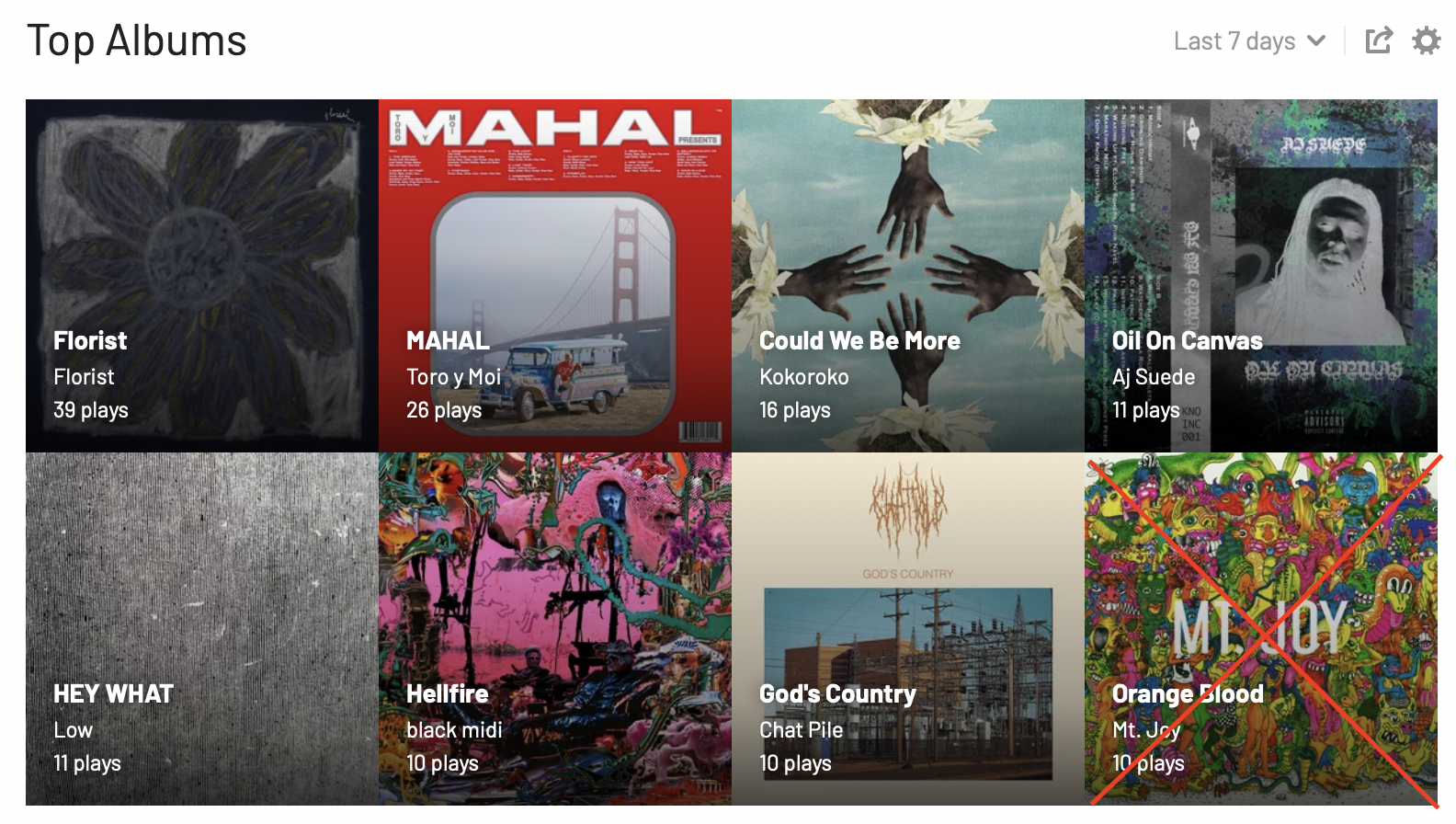 On spending Saturday afternoon driving around two counties in the rain making returns of dumb shit I bought online that doesn't fit or that I don't really need, and on being too self conscious to go to the art museum and go in with wet clothes on the last day of an exhibition I wanted to see, even though I was just a few blocks from it and going there was my original plan
Type: Web Page for an Art Exhibition / Video
Source: Utah Museum of Contemporary Art
I felt for some reason that if I went to this exhibit or looked at the book it would give me some idea or way forward for what to do (or not do) with this website, as the process of archiving ephemera (digitally in my case) and cataloging mundanities resonates with me. (If you are for some reason looking at this web site for even a few seconds you will likely have already discovered this about me.)
The truth is I'm not listening to music right now but to backyard morning sounds: birds, creek, calm Sunday morning traffic from 1300 East, my neighbors' baby fussing a bit, an AC unit kicking on, and a single dog bark. I also really didn't listen to a lot of music last week, between spending time at the cabin (cabin/canyon sounds are prioritized, just like backyard sounds) and people being around in the office at work when I did go back into work. There are some interesting things here nonetheless, and I have a lot of promising stuff queued up to listen to soon.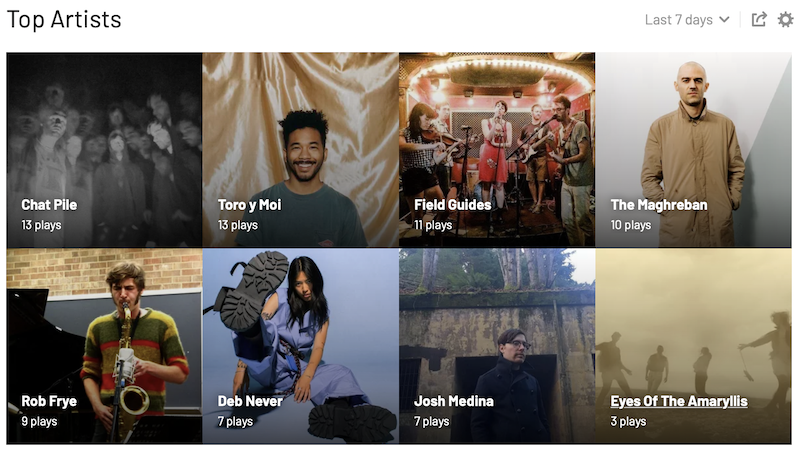 My knee has recovered enough that I went on somewhat of an actual hike!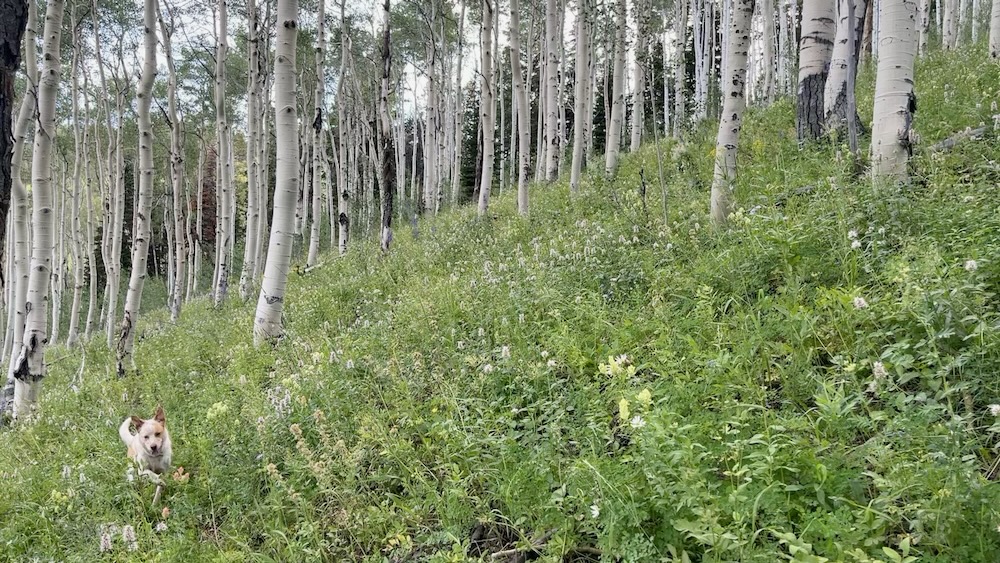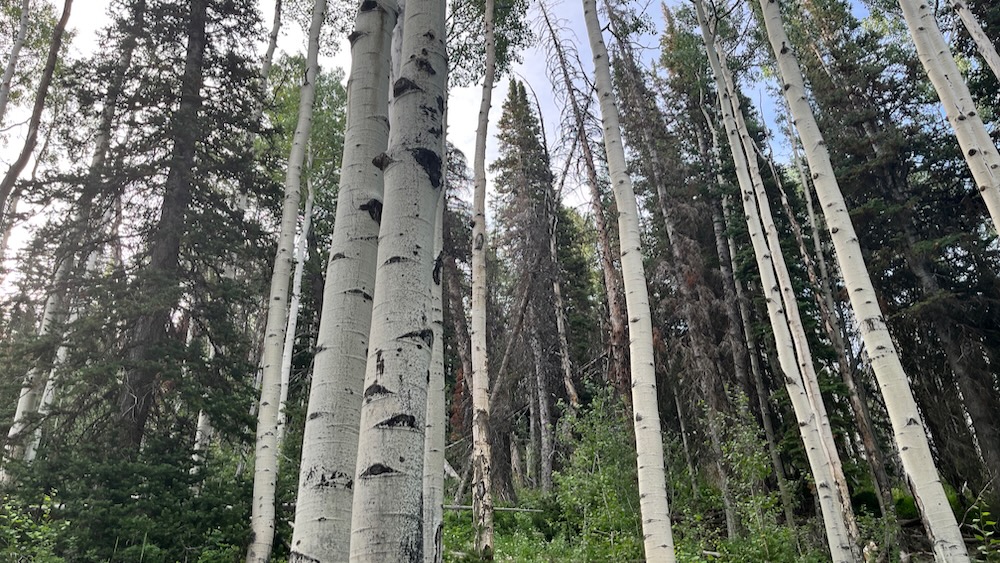 [ Full post: a hike! ]
Here's a photo of a grasshopper on the door of the shed in my backyard.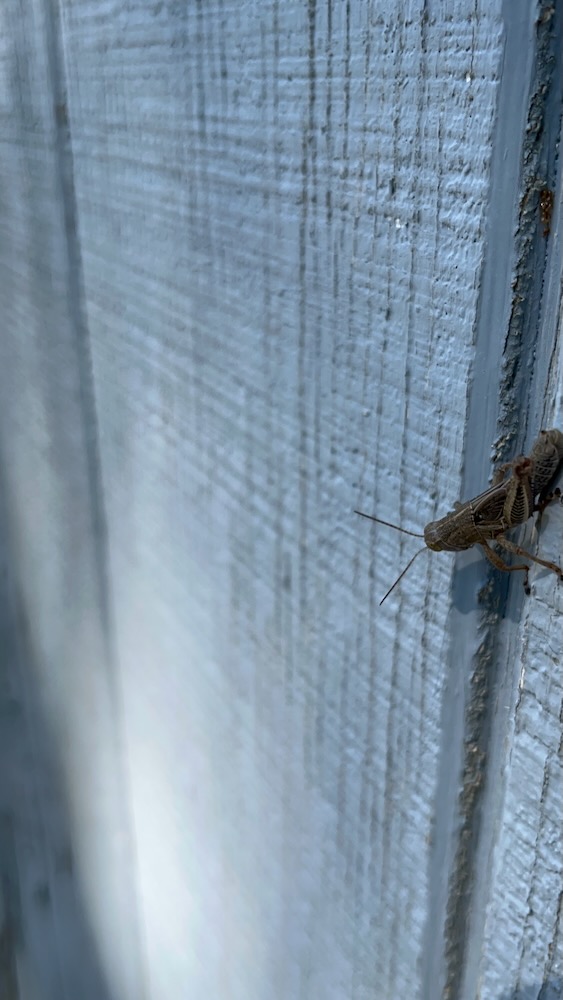 Type: Essay
Source: The New Atlantis
I don't have a quote, but this essay makes the case that we have basically gamified reality now. It's unfortunately pretty spot on.
Do I really need to get credit for every random thing I read and find at all interesting by semi-publicly recording it here on this website?
Maybe, yeah.
Type: Book Review / Marketing Blurb
Source: Electric Eel Newsletter
Halfway through Nevada, Binnie gives us this line: "It's clear that being responsible has not been a positive force in her life." It's describing an idea the protagonist, Maria Griffiths, is just then working out, or maybe taking for a spin.
She's thinking about all the responsibility she had borne up to that point: a responsibility to hide, to fit in, to cram herself into the identities or check-boxes or cheap clothes that had been assigned to her and declared acceptable. She bore that responsibility to protect herself, but more so to protect those around her, from discomfort, from standing out: "When she was little, she was responsible for protecting everybody else from her own shit about her gender—responsible for making sure her parents didn't have to have a weird kid." This is a burden children bear, and especially trans kids.
Type: Poem
Source: The Atlantic
. . .
[music | oil | trash] filled our rivers
stayed up for the after [party | life | math]
the forests were [protected | sold | ash]
wrote [letters | checks | ads] against corruption
blamed [science | systems | depression] for our cities
when the [oceans | fires | droughts] came
when the [rains | bomb | flu] came
when the [weather | weather | weather] came
we [weathered | welcomed | watered] it
we were [prepared | shocked | responsible]
. . .
---